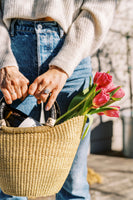 GOODS + GIFTS THAT BRING YOU JOY.
Your home is where you live, entertain, connect and create memories - and you should be able to do this all in a place that makes you feel happy, that you want to show off, and that you feel expresses your very unique style.
We handcraft quality products you can depend on, made by a family with expert workmanship in Sonoma County, CA. To find out more about the people behind the product, check out the 'MEET US' page. 
What are you waiting for? Take a peek at our store, and we are almost sure you won't leave empty handed.